NEW TESTAMENT - LESSON 39
Ephesians
"For the Perfecting of the Saints"
---
Scriptural Highlights
The dispensation of the fulness of times.
Jesus Christ is our cornerstone.
Unity between husband and wife and between parents and children.
Putting on "the new man" and "the whole armour of God.
A study of this lesson should help us understand that the process of "perfecting...the saints" requires us to increase our faith in Christ, follow the teachings of the apostles and prophets, and protect ourselves from the wickedness of the world.
---
Introduction

Paul's letter to the Ephesians is generally considered to have been written during his first Roman imprisonment, between AD 61 and 63.
This letter "does not seem to have the specific purpose of combating errors of doctrine or evil practices, as do most of his other letters. It is more like a deeply spiritual sermon than a call to repentance. It seems to be directed to members of the church who have maturity and understanding, and therefore it reflects great depth in its concepts.

"Perhaps its theme could best be summarized as a concise and beautiful outline of how a person sets aside the things of this world in order to partake of the unity and fellowship of the church." (Life & Teachings of Jesus & His Apostles, p349)
---
Chapter 1
READ EPHESIANS 1:3-4. Chosen before the foundation of this world.
WHAT IS SIGNIFICANCE OF THESE VERSES?

We were chosen and foreordained in the pre-existent state.
Bruce R. McConkie: "...God the Father.... Hath chosen, elected, and foreordained us, his saints. Before the foundation of the world...while we were yet in pre-existence. That we should be holy and without blame before him in love.... That we should receive his gospel and gain membership in his Church and, through baptism of water and the Spirit, have our sins remitted and thus become clean and spotless before him." (DNTC 2:491)
Orson Pratt: "I have already told you that the spirits of men and women, all had a previous existence, thousands of years ago, in the heavens, in the presence of God; and I have already told you that among them are many spirits that are more noble, more intelligent than others, that were called the great and mighty ones, reserved until the dispensation of the fulness of times, to come forth upon the face of the earth, through a noble parentage that shall train their young and tender minds in the truths of eternity, that they may grow up in the Lord, and be strong in the power of His might, be clothed upon with His glory, be filled with exceeding great faith; that the visions of eternity may be opened to their minds; that they may be Prophets, Priests, and Kings to the Most High God. Do you believe, says one, that they are reserved until the last dispensation, for such a noble purpose? Yes; and among the Saints is the most likely place for these spirits to take their tabernacles, through a just and righteous parentage. They are to be sent to that people that are the most righteous of any other people upon the earth; there to be trained up properly, according to their nobility and intelligence, and according to the laws which the Lord ordained before they were born. This is the reason why the Lord is sending them here, brethren and sisters; they are appointed to come and take their bodies here, that in their generations they may be raised up among the righteous." (Journal of Discourses, 1:62-63)

WHAT DOES IT MEAN TO YOU TO UNDERSTAND THIS PRINCIPLE?

We must have lived a worthy life in the pre-existence to be blessed as we have been in this estate. This is a wonderful thought when we get depressed our think lowly of ourselves. Think of all the ages in the world we might have lived and we now live in this modern age, in this free nation, blessed with the fulness of the gospel. It was not a chance happening.
V10: "That in the dispensation of the fulness of times he might gather together in one all things in Christ, both which are in heaven, and which are on earth; even in him".
WHAT IS A DISPENSATION?

"A period of time when the Lord has at least one servant on the earth who holds the keys of the priesthood and is authorized to administer the gospel." (Teacher's Manual, p163)

WHAT IS PAUL TALKING ABOUT IN THIS VERSE?

This is the only statement outside of Latter-day scripture that makes reference to the phrase "dispensation of the fulness of times".
B.H. Roberts: "This is the dispensation of the fulness of times and we see running into it, as mighty streams rush into the ocean all the former dispensations, putting us in touch with them, putting them in touch with us; and we see that God has had but one great purpose in view from the beginning, and that has been the salvation of His children. And now has come the final day, the final dispensation, when truth and light and righteousness must flood the earth." (B. H. Roberts in CR, Oct.1904, p73)
Gordon B. Hinckley: "You and I are experiencing the profound and wonderful blessings of the dispensation of the fulness of times. In this day and time there have been restored to the earth all the principles, powers, blessings, and keys of all previous dispensations." (Ensign, May 1992, p70)
---
Chapter 2
READ EPHESIANS 2:8-10. Saved by grace.
ACCORDING TO PAUL, HOW DOES A PERSON RECEIVE SALVATION?
WHY IS IT IMPOSSIBLE FOR US TO SAVE OURSELVES BY OUR WORKS?

We do not have the power to pay for our sins. Only Christ, one who was God, who lived a perfect life could do that. Though we live a life of good works, only through the grace of Christ can we be saved. But we must qualify for the atoning sacrifice.
Bruce R. McConkie: "Salvation does not come by the works and performances of the law of Moses, nor by "circumcision," nor by "the law of commandments contained in ordinances" (as Paul specifies in verses 11 and 15), nor does it come by any good works standing alone. No matter how righteous a man might be, no matter how great and extensive his good works, he could not save himself. Salvation is in Christ and comes through his atonement. God through Christ reconciles man to himself. But building on the atonement man must perform the works of righteousness to merit salvation, as verse 10 and the whole passage testify." (DNTC 2:500)
Brother Stephen E. Robinson in his book, Believing Christ, gives a wonderful analogy about the atonement. He tells about the time his seven year old daughter, Sarah, wanted a new bicycle. Not having a lot of extra money at the time, Brother Robinson told his daughter to save all her pennies and someday she would have enough money for a bicycle.

Several weeks passed. As Brother Robinson was reading the newspaper one evening he was aware Sarah was doing a chore for her mother. Later he heard the sound of coins being dropped into a jar. When asked what she was doing, Sarah responded, "You promised that if I saved all my pennies, pretty soon I would have enough to get a bike. And daddy, I've saved every single one!" Sarah was absolutely confident that she would soon have enough money to purchase a bicycle. Sarah had sixty-one cents.
Brother Robinson was touched by Sarah's efforts and took her shopping for a bicycle. At a department store they found the perfect bicycle. When Sarah turned over the price tag and saw the bicycle cost over a hundred dollars she turned to her father in despair and said, "Oh daddy. I'll never have enough for a bicycle."
Brother Robinson looked at her and said, "I'll tell you what dear. Let's try a different arrangement. You give me everything you've got, the whole sixty-one cents, and a hug and a kiss, and this bike is yours. She did so and Brother Robinson paid the difference and Sarah obtained her bicycle. At that time in Sarah's life, she did not have the capacity to obtain the bicycle on her own.
And so it is with the atonement. We desire eternal life, but all our work amounts to about sixty-one cents. We do not have the capacity to bring that about. Thus the need for intervention. Brother Robinson, "...only at this point, when we finally realize our inability to perfect and save ourselves, when we finally realize our truly desperate situation here in mortality and our need to be saved from it by some outside intervention--only then can we fully appreciate the One who comes to save.
"At that point, the Savior steps in and says, "So you've done all you can do, but it's not enough. Well, don't despair, I'll tell you what, let's try a different arrangement. How much do you have? How much can fairly be expected of you? You give me exactly that much (the whole sixty-one cents) and do all you can do, and I will proved the rest for now." (Believing Christ, pp30-33)
2 Nephi 25:23: "...for we know that it is by grace that we are saved, after all we can do."
V14: "For he is our peace, who hath made both one, and hath broken down the middle wall of partition between us".
AN INTERESTING VERSE. WHAT IS PAUL TEACHING?

Paul is pointing out that the Gentiles who accept the gospel are now brought in and made part of the covenant people.
In the great temple of Jerusalem, the temple proper was shielded from Gentile influences. A special barrier was erected, and if a Gentile passed beyond it, he could be put to death.

Recall that Paul was accused for bringing a Gentile into the temple. It was this event that eventually led to his being taken to Rome for trial.
READ EPHESIANS 2:19-21. Christ, the chief cornerstone.
WHAT IS BUILT UPON THE FOUNDATION OF APOSTLES AND PROPHETS?
WHY DO YOU THINK PAUL REFERRED TO JESUS AS THE CHIEF CORNERSTONE OF THE CHURCH?

The cornerstone anciently was the massive stone laid at the corner to bind fast the two separate walls into one solid whole. Christ is the one who holds the Church together. Without him, what do we have?
Appropriate to Paul's day: In Christ, both Jew and Gentile are bound together inseparable, not to form two separate walls, but to create one unified people.

WHY ARE LIVING APOSTLES AND PROPHETS ESSENTIAL TO THE TRUE CHURCH?

They are the source through which current revelation flows.
The structure as we have been provided has incredible stability (compare to man made organizations).
Bruce R. McConkie: "Apostles and prophets are the foundation upon which the organization of the true Church rests. (1 Cor. 12:28; Eph. 2:20.) Where there are no apostles and prophets there is no divine Church, but where these officers are found, there is the Church of Christ in all its glory, beauty, and perfection. The inspired promise is that these officers will remain in the Church 'Till we all come in the unity of the faith, and of the knowledge of the Son of God, unto a perfect man, unto the measure of the stature of the fulness of Christ.' (Eph. 4:13)." (Mormon Doctrine, p606)
We recently enjoyed another General Conference of the Church. As I sat in the Priesthood Session and listened to President Hinckley, the Spirit bore witness that this man is God's chief representative here on earth. It is through him that we receive the mind and will of the Lord. It is through him that the work of salvation is directed on this earth.

When I was on my mission many years ago, we taught the discussions using a flannel board. To illustrate this scripture, we placed on the board a picture of a building that represented a church or temple (I though it looked like the Los Angeles Temple). Various parts of the building were labeled with the different officers of the Church. The bottom section, the foundation, was labeled "apostles and prophets". We then taught that this was the structure of the ancient Church as organized by Jesus Christ. We then taught about the Great Apostasy and the loss of the apostles and prophets. We would reach over and pull the foundation section (apostles and prophets) from the flannel board and ask what happens when you remove the foundation from under a building, thus illustrating the necessity of this organization as taught by Jesus Christ.

According to v19 those who were strangers or foreigners (Gentiles or Ephesians in this case) become fellowcitizens with the Saints. They partake of the full fellowship with the Saints and the blessings of the gospel.
Citizenship implies that we have duties, responsibilities, rights, and privileges.

As a citizen of the "household of God" we should heed the admonition of the Prophet Joseph Smith: "We ought to have the building up of Zion as our greatest object." (TPJS, p160)
WHAT CAN WE DO TO HEED THIS ADMONITION?

Work out our own salvation and build Zion within our homes. Though there is much else that we can and should be doing, it is essential that we start with ourselves and our family.
---
Chapter 4
READ EPHESIANS 4:4-6. One Lord, one faith.
WHAT DO THESE VERSES MEAN TO YOU?

Bruce R. McConkie: "Truth is only one thing, and every truth is in harmony with every other truth. If one church proclaims that God is an exalted Man and another says he is an incorporeal spirit essence; if one church teaches that baptism is essential to salvation and another considers it of no importance whatever; if one church says salvation consists in the continuation of the family unit in eternity and another affirms there is no marrying or giving in marriage in heaven; and so on and so on, through a thousand gospel doctrines, something is wrong with somebody's religious views.

"Just as there is only one true science, or one true mathematics, so there is one true God, one true Church, one true gospel, one true baptism, one true celestial marriage, and on and on. When the Lord restored the gospel and set up his Church in modern times, naming it The Church of Jesus Christ of Latter-day Saints, by his own voice he described it as, 'the only true and living church upon the face of the whole earth.' (D. & C. 1:30.) In contrast, all other churches are man-made, which accords with the instruction given the Prophet in the First Vision that he 'must join none of them, for they were all wrong.' (Jos. Smith 2:19)." (DNTC, 2:506-507)
READ EPHESIANS 4:11-14. Leaders for the perfecting of Saints.
ACCORDING TO PAUL, WHY DO WE HAVE TEACHERS AND LEADERS IN THE CHURCH?

For the perfecting of the Saints (12).
Work of the ministry (12).
Edifying the body of Christ (12).

WHAT DOES THIS MEAN?

Bruce R. McConkie: "Without living apostles and prophets the members of the Church would not be enlightened from on high or taught what the Lord would have them know. Why? Because they make known the true doctrines of salvation; and they confer or authorize the conferral of the Holy Ghost, without whose enlightening power none can comprehend the things of pure religion." (DNTC 2:511)

To bring us to a unity of the faith (13).
Provide knowledge of the Son of God (13).
To keep us from being "tossed to and fro" by every wind of doctrine (14).

Spencer W. Kimball: "The authorities which the Lord has placed in his Church constitute for the people of the Church a harbor, a place of refuge, a hitching post, as it were. No one in this Church will ever go far astray who ties himself securely to the Church Authorities whom the Lord has placed in his Church. This Church will never go astray; the Quorum of the Twelve will never lead you into bypaths: it never has and never will. There could be individuals who would falter; there will never be a majority of the Council of the Twelve on the wrong side at any time The Lord has chosen them; he has given them specific responsibilities. And those people who stand close to them will be safe. And conversely, whenever one begins to go his own way in opposition to authority, he is in grave danger. I would not say that those leaders whom the Lord chooses are necessarily the most brilliant, nor the most highly trained, but they are the chosen, and when chosen of the Lord they are his recognized authority, and the people who stay close to them have safety." (CR, Apr 1951)

Paul is saying that these officers are necessary in the Church until these aims are achieved.

Bruce R. McConkie: "Period during which these officers are to remain in the Church: Until every living soul on earth is converted, knows God, and is seeking to be like Christ and have exaltation." (DNTC 2:509)
Paul admonishes the members of the Church to live righteously.
V17-19: "This I say therefore, and testify in the Lord, that ye henceforth walk not as other Gentiles walk, in the vanity of their mind,

"Having the understanding darkened, being alienated from the life of God through the ignorance that is in them, because of the blindness of their heart:
"Who being past feeling have given themselves over unto lasciviousness, to work all uncleanness with greediness."
WHAT IS PAUL TEACHING?

As members of the Church we can no longer live or "walk" as the Gentiles walk.

Vanity of mind - their minds are caught up in the pursuit of earthly things. They are what we call the "natural man".
Understanding darkened - because of their attitude, their understanding is darkened.

Paul has carefully chosen his words. Consider the phrases "understanding darkened" and "blindness of heart".
It would seem to me that this vanity of mind over time forces out the light of Christ, which leaves one "darkened" or "blind" to righteousness.

The result:

They are past feeling - lost the light of Christ, no conscience.
Given themselves to lasciviousness.
Work all uncleanness with greediness.

V22-24: "That ye put off concerning the former conversation the old man, which is corrupt according to the deceitful lusts;

"And be renewed in the spirit of your mind;
"And that ye put on the new man, which after God is created in righteousness and true holiness."

WHAT DOES IT MEAN TO PUT ON THE "NEW MAN"?

To change your walk and put off the "natural man".
Mosiah 27:25-26: "And the Lord said unto me: Marvel not that

all mankind, yea, men and women, all nations, kindreds,
tongues and people, must be born again; yea, born of God,
changed from their carnal and fallen state, to a state of
righteousness, being redeemed of God, becoming his sons and
daughters;
"And thus they become new creatures; and unless they do
this, they can in nowise inherit the kingdom of God."
Paul lists some specific characteristics of the new man:

V25: Put away lying & speak truth with your neighbor.
V26: "Let not the sun go down upon your wrath."
V27: "Neither give place to the devil."

HOW MIGHT WE GIVE PLACE TO THE DEVIL?

By not obeying our divine conscience or the light within us.

V28: Work for your upkeep and give "to him that needeth".
V29: "Let no corrupt communication proceed out of your mouth". What we speak should edify one another.
V31: Put away all bitterness, wrath, anger, clamour, and evil speaking.
V32: "And be ye kind one to another, tenderhearted, forgiving one another."

This is truly putting of the "natural man" and becoming "a man of Christ".

Paul lists additional qualities in Ephesians 5:1-20:

V6-7: "Let no man deceive you with vain words: for because of these things cometh the wrath of God upon the children of disobedience. Be not ye therefore partakers with them."

HOW MIGHT WE BE DECEIVED BY VAIN WORDS?

An appeal to desires for material riches, power, fame, or false doctrines.
Paul says not to be partakers with them. In v14 he says to "have no fellowship with the unfruitful works of darkness".

V20: We should give thanks for all things.
---
Chapter 5
READ EPHESIANS 5:22-29. Husbands, love your wives.
WHAT DO YOU THINK OF THESE VERSES?
WHAT DOES THIS COMPARISON TEACH US ABOUT PROPER RELATIONSHIPS BETWEEN HUSBANDS AND WIVES?

President Kimball: "Can you find in all the holy scriptures where the Lord Jesus Christ ever failed his church?... Was he faithful? Was he true? Is there anything good and worthy that he did not give? Then that is what we ask--what he asks of a husband, every husband. That is the goal. Can you think of a single exception in his great life? There should be none in

yours....
"...Much is said in Paul's words 'as unto the Lord.' Let it sink deep into your hearts. A woman need have no fear of being imposed upon or being subject to any dictatorial measures or improper demands when her husband is thoughtful, self-sacrificing, and worthy...
"[Husbands,] you need to ask yourselves, 'Can I love my wife even as Christ also has loved the Church?' Can you think of how he loved the Church? Its every breath was important to him. Its every growth, its every individual, was precious to him. He gave to those people all his energy, all his power, all his interest. He gave his life--and what more could one give?" (Men of Example [address delivered to religious educators, 12 Sept. 1975], pp. 4-5).
---
Chapter 6
READ EPHESIANS 6:1-4. Parents to teach, children to obey.
WHAT DID PAUL TEACH ABOUT THE RESPONSIBILITY OF OF CHILDREN?

Obey your parents in the Lord.
Honor thy father and mother.

WHAT IS THE RESPONSIBILITY OF PARENTS?

Provoke not your children to wrath.
Bring them up in the nurture and admonition of the Lord.
READ EPHESIANS 6:11-18. Put on the armour of God.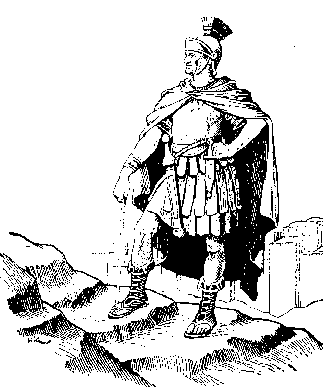 WHAT DOES IT MEAN TO "PUT ON THE WHOLE ARMOUR OF GOD"?

President Lee: "Note carefully that the Apostle Paul's declaration implies that our most deadly contest in life is not with human enemies which may come with guns, with army tanks, or bombing planes to destroy us, but that our eternal struggle is with enemies which strike out of darkness and may not be perceived by human senses.

"The Apostle Paul demonstrates his great ability as an inspired teacher as he pictures each of us as a warrior being clothed with the essential armor to protect the four parts of the human body which apparently Satan and his hosts, by their vigilant spy system, have found to be the most vulnerable parts through which the enemies of righteousness might make their 'landing,' as it were, and invade the human soul." (Stand Ye In Holy Places, p.330)

WHAT CAN WE DO TO PUT ON THIS ARMOR EACH DAY?
---
Next Week
Lesson 40: Philippians; Colossians; Philemon
---
• Home Page • Gospel Doctrine Class • Y2K Page • Nature Gone Wild •
• Home Improvement • Family Pages • Favorite Links • Photo Gallery •

Page created by: beardall@uswestmail.net. Please E-Mail comments.
Changes last made on: Fri Oct 8 1999