NEW TESTAMENT - LESSON 31
Acts 15:36-18:22; 1 & 2 Thessalonians
---
Scriptural Highlights
Paul, Silas, and Timothy preach throughout Macedonia and Greece.
Paul preaches on Mars' Hill to the Athenian philosphers.
Paul writes letters of counsel to the Saints in Thessalonica.
A study of this lesson will help us learn from Paul's teachings about how to share the gospel and how to live as Saints.
---
Paul's Second Missionary Journey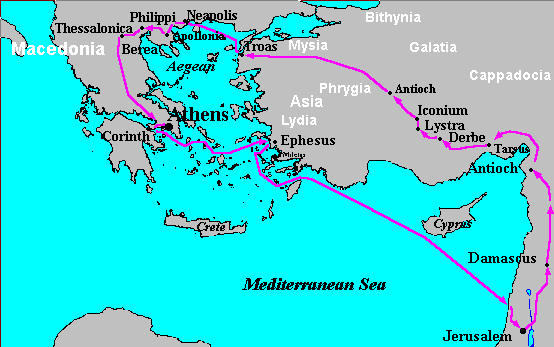 ---
Acts 15
At the conclusion of the Jerusalem conference, Paul, Barnabas, and their companions returned to Antioch.
Back in Antioch, they delivered the message of the Church leaders: Gentile males did not need to be circumcised to join the Church.
Shortly thereafter, Paul and Barnabas prepared to depart on a second missionary journey.
READ ACTS 15:36-41. A sharp division between Paul and Barnabas.
WHAT CAUSED THE DISAGREEMENT BETWEEN PAUL AND BARNABAS AS THEY PREPARED FOR THEIR SECOND MISSIONARY JOURNEY?

Barnabas wanted to take John Mark along. Paul refused because John Mark had deserted them on their first missionary journey. Barnabas wanted to give John Mark another chance. Obviously, Paul felt that it would be better for John Mark to stay behind.

HOW DOES THIS INCIDENT AFFECT YOUR OPINION OF THESE MEN?

These were imperfect men striving to build the Lord's church. Each had strong feelings about this situation.

WHAT CAN WE LEARN FROM THIS?

We are all human, including our leaders. We need to be patient with each other as we strive to do the best we can.
It would seem that Paul and Barnabas recognized that one of the essential ingredients for success in missionary work was harmony. At this point in time, they were unable to put their disagreement behind them and felt that it would be best if they went their separate ways for a period.
I learned during my mission that harmony with one's companion was essential to the success of the work. It is interesting to bring two young men together that have grown up in different families with different habits. Learning to deal with these differences was often a challenge. I had companions that were great to work with. There were others where we agreed on little more than the gospel. When harmony flourished, we enjoyed greater spirituality and the missionary work blossomed. When we had differences, the work suffered.
During the second year of my mission, I had a companion that liked to leave his belongings everywhere. Stuff was scattered all over the apartment from the kitchen table, to the bathroom, to the sofa. If there was an open space, he had stuff on it. I came from a home where the motto was, "A place for everything and everything in its place." At first, I had a difficult time with this companion. I was frustrated with his habits of clutter. We both recognized that this situation was causing disharmony within the companionship that was affecting the work. He seemed unable to change his habits and so we came up with an odd compromise. We divided everything in half. My bedroom area was mine and he kept his stuff out. We divided the kitchen table and counter areas in half. He would put his clutter up to the half way point and leave me the other half. Though it was a strange compromise, it worked for both of us and a strong companionship developed. We got beyond the small, petty things that were hindering the growth of the companionship and the success of the work.
D&C 38:27: "I say unto you, be one; and if ye are not one ye are not mine." If we are not the Lord's, how can we succeed in teaching his word.
---
Acts 16
READ ACTS 16:6-10. Paul directed by the Spirit.
WHAT IS SIGNIFICANT ABOUT THESE VERSES?

The missionary work is directed by the Spirit.

HOW HAS THE SPIRIT DIRECTED YOUR EFFORTS TO SERVE THE LORD?

During the two year period of my mission, I enjoyed many experiences where the Spirit moved us in powerful ways. I recall one particular afternoon out tracting. As often happened on Oklahoma summer afternoons, a storm started brewing. The clouds were growing dark and it was starting to sprinkle. I learned that one did not always have a lot of time before the clouds broke loose and a downpour followed that would totally drench one caught in the storm. On this afternoon we decided it was time to get back to the car where we would be safe and dry from the storm. It was late enough that we were ready to return to our apartment for dinner. Before returning to the car, we felt compelled to visit one more house, though we knew we might get caught in the storm.
We went ahead to the house, climbed the steps to the porch, and knocked on the door. A young lady opened. We gave her the usual greeting and she invited us in. She was a single mother. We proceeded to give her the first discussion. She listened intently, attempting to answer our questions, but saying little else. As we neared the end of the discussion, she said to us that she had felt the need to attend church and she had been praying to know which church to join. Over the next few weeks we continued our discussions and had the privilege of baptizing her.
It has often amazed me since, how many times we were ready to end our tracting for the morning or afternoon and were moved to go on just a little further. Time after time, in such circumstances, we found people that were interested in hearing our message. Sometimes we only planted seeds. Other times we yielded a harvest, as we did with the young woman we found on that rainy summer afternoon.
READ ACTS 16:14-15. Conversion of Lydia.
HOW IS IT THAT THE LORD OPENS THE HEARTS OF SOME, BUT NOT OTHERS?
HOW DOES HE DO THAT? HOW IS AGENCY INVOLVED?
READ ACTS 16:16-24. Paul imprisoned.
WHY WERE PAUL AND HIS COMPANIONS ARRESTED IN THYATIA?

They cast the evil spirit out of the damsel. By doing so she was no longer able to continue the practice of divination. Her masters were upset when they saw that their ability to obtain money through her practice was removed.

WHAT IS DIVINATION?

Bruce R. McConkie: "False religions -- whose ministers have no communion with Deity -- frequently imitate the true practice by engaging in divination. This practice is an attempt to foretell the future by augeries, omens, presages, or forebodings. Among primitive peoples it frequently meant interpreting dreams or other signs or seeking peculiarities in the entrails of sacrificial victims. A diviner is one who attempts to foretell the future by divination. Soothsayers act by the 'spirit of divination.' (Acts 16:16-18.) The Lord's people are commanded not to engage in divination of any sort. (Deut. 18:9-14.)" (Mormon Doctrine, p202)

DO WE SEE THIS HAPPENING TODAY? ARE THE PERSONS WHO ATTEMPT TO DISRUPT THE WORK OF THE LORD BECAUSE IT MAY AFFECT THEIR MEANS OF MAKING A LIVING?

It is sometimes seen among ministers of other faiths who see their congregations dwindle as members of their flock join the Church. This was seen time after time during the early days of the great missionary work in England.
READ ACTS 16:25-26. Paul and his companions freed.
READ ACTS 16:27-34. Conversion of the prison guard.
HOW DID THEY USE THIS EXPERIENCE AS A MISSIONARY OPPORTUNITY?

They could have let the keeper of the prison kill himself and walk out, but they let him know that they were still present, thus opening the door to his conversion. They were more concerned about the guard than their freedom or safety.

We need to be looking for missionary opportunities everywhere. We never know when they may come. It often happens in the course of adversity. If we are led by the Spirit, we will be alert to such opportunities. We cannot let challenges or adversity shade our eyes to opportunity.

It has often been said, that when one encounters lemons, make lemonade. Another favorite saying of mine reads, "Out of every adversity grows an equal or greater opportunity."
Harriet Beecher Stowe said, "When you get into a tight place and everything goes against you, till it seems as though you could not hold on a minute longer, never give up then, for that is just the place and time that the tide will turn."
When Elders Heber C. Kimball, Willard Richards, Orson Hyde and others opened the British mission they encountered a horrible vision of the legions of the adversary. Heber said of this occassion, "By this time the adversary of souls began to rage, and he felt determined to destroy us before we had fully established the kingdom of God in that land, and the next morning I witnessed a scene of satanic power and influence which I shall never forget" (Life of Heber C. Kimball, p129). Isaac Russell called out to Heber during this attack, "Brother Kimball, I want you should get up and pray for me that I may be delivered from the evil spirits that are tormenting me to such a degree that I feel I cannot live long, unless I obtain relief" (Ibid., p129)
"Years later, narrating the experience of that awful morning to the Prophet Joseph, Heber asked him what it all meant, and whether there was anything wrong with him that he should have such a manifestation.
"'No, Brother Heber,' he replied, 'at that time you were nigh unto the Lord; there was only a veil between you and Him, but you could not see Him. When I heard of it, it gave me great joy, for I then knew that the work of God had taken root in that land. It was this that caused the devil to make a struggle to kill you.'
"Joseph then related some of his own experience, in many contests he had had with the evil one, and said: 'The nearer a person approaches the Lord, a greater power will be manifested by the adversary to prevent the accomplishment of His purposes'." (Ibid., pp131-132) Following this incident, these missionaries taught and baptized 2000 news Saints prior to Heber Kimball's return to the States several months later.
The Lord is involved in this work. It may not be easy or convenient, but the Lord will guide those who serve him.
---
Acts 17
READ ACTS 17:1-3. Paul testifies that Jesus is the Christ.
Jesus Christ was the center of Paul's teaching was of .
WHY SHOULD CHRIST BE AT THE HEART OF THE TESTIMONY WE BEAR?

It is his church.
He is the father of our salvation.
Without him we have no hope.
READ ACTS 17:15-21.
Notes on Athens:

Areopagus, also known as Mars' Hill.

A rocky eminence in Athens, separated from the west of the Acropolis by a raised valley.
Mythology made it the scene of the god Mars' trial before the gods, at Poseidon's accusation, for murdering the son of the latter.
Here judges sat, in criminal and religious cases, in the open air.
Nearby was the temple of Mars, the Parthenon of Minerva, and the sanctuary of Eumenides, and the temple of Theseus.

WHO WERE THESE EPICUREANS AND STOICS?

Epicurean philosophy: The world came into existence by chance and was without either purpose or design. The highest good to which man could attain was that which brought him the greatest pleasure or the greatest absence of pain. It did not advocate wholesale licentiousness, but rather those enjoyments which gave to man the longest and fullest personal satisfactions. (Life & Teachings of Jesus & His Apostles, p265)
Stoic philosophy: It recognized a supreme governing power in the universe. The true stoic is he who accepts conditions as he finds them rather than changes them to be as he wishes them to be. (Ibid., p265)

WHY DID THE PHILOSOPHERS IN ATHENS GRANT PAUL AN AUDIENCE?

They were curious.
V21: "For all the Athenians and strangers which were there spent their time in nothing else, but either to tell, or to hear some new thing."

HOW DO YOU THINK THEIR MOTIVES FOR HEARING PAUL AFFECTED THEIR RESPONSE TO HIS MESSAGE?

Many times on my mission I encountered those who "spent their time in nothing else, but either to tell, or to hear some new thing." Early in my mission I was assigned to the hill country of eastern Oklahoma. It was a rural, wooded area dotted with towns of only a few hundred each. Mission resources were such, that we began our sevice in that area without a car. The members were great about giving us rides, but they were not always available. Our residence was about ten miles out of town.
One fall afternoon, we had been into town and decided to tract our way back to our residence. The homes were few and far between. We stopped at a humble home, a little better than a log cabin, and were pleased to when we were invited to sit on the porch and visit with a man. His hospitality was such, that he set his wife to cooking dinner for us. Though he was a pleasant fellow, like the Athenians, he just wanted to talk, debate, and "hear some new thing". His mind was not open. He lived a simple life in the woods and he didn't want anything to change it. He loved to talk and that seemed to be his preferred entertainment.
Read Acts 17:22-31. Paul's discourse on Mars' Hill.
WHAT DID PAUL TEACH THE CURIOUS ATHENIANS ABOUT GOD?

God is the creator of the world and all things therein.
He gives life to all things.
He is not worshipped with men's hands - graven images.
We are the offspring of God.
The world will be judged by his Son who has been raised from the dead.

HOW DOES AN UNDERSTANDING OF GOD'S TRUE NATURE HELP US WORSHIP AND LOVE HIM?

If we are his offspring, that means that we are created in his image. It implies that we can become like him. We love God as our Father and honor and worship him for his goodness.
How can we love a graven image or some nebulous being?
READ ACTS 17:32-34. Reaction of the Athenians.
After delivering his discourse, there were some who mocked.

HOW CAN WE HELP PEOPLE WHO REJECT THE GOSPEL BECAUSE THEY DO NOT THINK THAT THE ATONEMENT, RESURRECTION, FIRST VISION, OR SOME OTHER DOCTRINE IS REASONABLE?

There are many things that we can do. We need to learn to love in an unselfish way. We should become their friends, not because we hope to gain a convert, but because they are our eternal brothers and sisters. We may prepare the way for the spirit to influence them.
Shortly after arriving in a new area in eastern Oklahoma, I had the privilege of seeing several members of a family baptized into the Church. The oldest daughter of the family (I will refer to her as Jackie), a teenager in high school, refused to accept the message and was antogonistic towards us and the gospel. We continued to fellowship and work with the family, but we could not change the mind of this young lady.
As the family began to attend the local branch, the Jackie became acquainted with another teenage girl from a member family. They became good friends and began to do things together. The member girl simply became a friend to Jackie and in the process softened her heart towards the Church, the missionaries, and the gospel message. One evening, we went over to the home of the member family and found that Jackie was visiting. Her heart had been changed. She began to ask honest questions for which she truly wanted answers. She asked how she could know if she had faith. It gave us an opportunity to discuss the 32nd chapter of Alma and his incredible discourse faith. Jackie, her heart now open to hearing the message, tried an experiment on the word and within weeks we had the privilege of seeing her baptized.
We don't always have the same results, but if we truly love our neighbors as brothers and sisters, we will continue to be their friends. We will help them when the need arises. They won't just be a missionary project, but we will grow to love them as our own families. We don't reject family members just because they cease to be active in the Church. We continue to love them with all our heart. Why should it be any different with our spiritual brothers and sisters?
Shortly after returning from my mission, I had the opportunity of going to Temple Square with a good friend, his girlfriend (a recent convert), and his girlfriend's sister. We walked around Temple Square and went through the Visitor's Center. As we were riding home, the non-member sister said to me that she liked a lot of things about the Church. The thing that bothered her was Joseph Smith and the Book of Mormon. I attempted to explain to her, that all the great things that she saw in the Church were a result of what happened to Joseph Smith. Intellectually I could not convince her that the Church is true. The only way that one can come to know the validity of the gospel is through the manifestation of the spirit. We can become instruments of the Lord in softening hearts and preparing minds to accept the ministrations of the Holy Ghost.
1 Corinthians 2:4-5, 10-16: "And my speech and my preaching was not with enticing words of man's wisdom, but in demonstration of the Spirit and of power:
"That your faith should not stand in the wisdom of men, but in the power of God....
"But God hath revealed them unto us by his Spirit: for the Spirit searcheth all things, yea, the deep things of God.
"For what man knoweth the things of a man, save the spirit of man which is in him? even so the things of God knoweth no man, but the Spirit of God.
"Now we have received, not the spirit of the world, but the spirit which is of God; that we might know the things that are freely given to us of God.
"Which things also we speak, not in the words which man's wisdom teacheth, but which the Holy Ghost teacheth; comparing spiritual things with spiritual.
"But the natural man receiveth not the things of the Spirit of God: for they are foolishness unto him: neither can he know them, because they are spiritually discerned.
"But he that is spiritual judgeth all things, yet he himself is judged of no man.
"For who hath known the mind of the Lord, that he may instruct him? But we have the mind of Christ."
---
1 Thessalonians
Paul follows up his second mission with letters to the Thessalonians.
Paul & his companions were driven from Thessalonica by angry Jews (Acts 17:5).
From there Paul went to Berea, Athens, and Corinth.
Silas & Timothy met Paul at Corinth. Paul sent Timothy back to Thessalonica to check on conditions in the branch. Later Timothy returned to Corinth and reported to Paul.
Paul wrote the saints in Thessalonica a message of consolation and encouragement, that they might be able to continue to endure persecution and trials and to remain steadfast in their faith in the Lord Jesus Christ. Most of these members appear to have been Gentiles prior to their conversation.
It appears that the letters to the Thessalonians were written from Corinth several months after Paul had left Macedonia, near the close of A.D. 52.
1 Thessalonians 1:10: "And to wait for his Son from heaven, whom he raised from the dead, even Jesus, which delivered us from the wrath to come."
Paul speaks of the righteous Saints being delivered from the "wrath to come".
WHAT IS THIS WRATH OF WHICH PAUL SPEAKS?

Section 88:85 speaks of the Saints preparing themselves that they "may escape the wrath of God, the desolation of abomination which awaits the wicked, both in this world and in the world to come."
Bruce R. McConkie: "In a general sense, this expressive designation, abomination of desolation, also describes the latter-day terrors to be poured out upon the wicked wherever they may be. And so that the honest in heart may escape these things, the Lord sends his missionaries forth to raise the warning voice, to declare the glad tidings of the restoration, lest 'desolation and utter abolishment' come upon them. The elders are commanded to reprove 'the world in righteousness of all their unrighteous and ungodly deeds, setting forth clearly and understandingly the desolation of abomination in the last days.' (D. & C. 84:114, 117.)" (Mormon Doctrine, pp12-13)

HOW CAN WE PREPARE FOR THIS TIME?

Joseph Smith: "It seems to be deeply impressed upon our minds that the Saints ought to lay hold of every door that shall seem to be opened unto them, to obtain foothold on the earth, and be making all the preparation that is within their power for the terrible storms that are now gathering in the heavens, 'a day of clouds, with darkness and gloominess, and of thick darkness,' as spoken of by the Prophets which cannot be now of a long time lingering..." (TPJS, p141)
Chapters 4 & 5.
In the first part of Chapter 4, Paul exhorts the people to live to please God, to observe moral purity, to love one another, and to be industrious.

Evidently some of these converts had lapsed into some of their old vices. It is important to note that these people were Gentile converts and had not been raised with the strict moral code inherent in the Law of Moses.

Paul then writes about the Second Coming.

He clarifies to these Saints the fact that those living at the time of the Second Coming will not have precedence over those who have passed away.

4:16-17: "For the Lord himself shall descend from heaven with a shout, with the voice of the archangel, and with the trump of God: and the dead in Christ shall rise first:
"Then we which are alive and remain shall be caught up together with them in the clouds, to meet the Lord in the air: and so shall we ever be with the Lord."
This statements apparently caused the Thessalonian Saints to believe that the Second Coming of Christ was imminent. Paul had to correct this notion in his second epistle.

READ 1 THESSALONIANS 5:1-3. The Lord to come as a thief in the night.

Mormons, and our fellow Christians, often like to speculate regarding the time of the Second Coming.
Joseph Fielding Smith: "I do not know when he is going to come. No man knows. Even the angels of heaven are in the dark in regard to that great truth. But this I know, that the signs that have been pointed out are here. The earth is full of calamity, of trouble. The hearts of men are failing thm. We see the signs as we see the fig tree putting forth her leaves; and knowing this time is near, it behooves you, and all men upon the face of the earth, to pay heed to the words of Christ, to his apostles and watch, for we know not the day nor the hour. But I tell you this, it shall come as a thief in the night, when many of us will not be ready for it." (Doctrines of Salvation, 3:52-53)

READ 5:4-8. The Saints are children of light and should be watching and sober.
In verses 11-22 Paul lists several things the Saints need to be doing to prepare for the Second Coming. If we do so, he says in verse 23, "And the very God of peace sanctify you wholly; and I pray God your whole spirit and soul and body be preserved blameless unto the coming of our Lord Jesus Christ."

His list includes:

Edify one another (11).
Esteem our eclesiastical leaders (12-13).
Warn the unruly (14).
Comfort the feebleminded (according to Elder McConkie this is to comfort those who lack courage or resolution to live the gospel) (14).
Support the weak (14).
Be patient toward all men (14).
Do not render evil for evil (15).
Rejoice evermore (16).
Pray without ceasing (17).
In everything give thanks (18).
Quench not the Spirit (19).
Despise not prophesying (20).
Prove all things & hold fast that which is good (21).
Abstain from all appearance of evil (22).
---
2 Thessalonians
READ 2:1-3. There must be a falling away from the truth prior to the Second Coming.
Paul is correcting the impression the Thessalonian Saints had that the Second Coming is imminent.
3:1-3: "Finally, brethren, pray for us, that the word of the Lord may have free course, and be glorified, even as it is with you:
"And that we may be delivered from unreasonable and wicked men: for all men have not faith.
"But the Lord is faithful, who shall stablish you, and keep you from evil."
SHOULD THIS NOT BE OUR PRAYER ALSO?
READ 3:10-12. Those who do not work, should not eat.
Neal A. Maxwell: "When working productively is the norm, we avoid the social friction that occurs when the idler eats the bread of the worker. The idler comes to expect from, and demands more of' the worker—with resentment building all the time in the worker. Paul reminded the Saints in Thessalonica that he had commanded them as follows: 'If any would not work, neither should he eat.' (2 Thessalonians 3:10.) He stressed throughout his preachings that 'every man shall bear his own burden.' (Galatians 6:5.)" (Wherefore Ye Must Press Forward, pp7-8)
3:13: "But ye, brethren, be not weary in well doing."
DO WE SOMETIMES GROW WEARY IN DOING THE LORD'S WORK?

How many have taken piano or some other musical instrument? How long did it take you to master the instrument? Did you ever get weary?
My mother taught piano during my growing up years. We decided that I should take piano. I thought the idea of creating music was a wonderful notion. I have always enjoyed good piano music. I learned quickly that the newcomer to the instrument plays an elementary form of music. After three months, I found that I had not progressed very far and grew weary of practicing. And thus ended my piano career.
It was interesting to watch the process of learning when my younger brother took up piano. He, at times also grew weary, but he worked through it and became an accomplished pianist. Success in anything is often dependent on one working through periods of weariness, boredom, fatigue, or a lack of enthusiasm.
Paul says to not be weary in well doing. The road to perfection and eternal life is not always exciting. Paul says, stay on the path. Don't give up. Keep up your enthusiasm.

As mentioned earlier in this lesson, we often found success in missionary service in those moments when we were ready to quit, when the day was growing late, when we became weary.
---
Summary
We are blessed and privileged to live in the latter days and partake of the restored gospel.. We know that the Second Coming is drawing near. What will we do with this knowledge that we possess? When Paul learned the truth, he became an enthusiastic missionary. If we truly love the Lord and his gospel, we will endeavor to spread the truth and support the missionary effort, even when we sometimes grow weary.
---
Next Week
Lesson 32: Acts 18:23-20:38; Galatians

Additional Reading: Bible Dictionary, "Holy Ghost," 704; "Pauline Epistles: Epistle to the Galatians," 744-45
---
• Home Page • Gospel Doctrine Class • Y2K Page • Nature Gone Wild •
• Home Improvement • Family Pages • Favorite Links • Photo Gallery •

Page created by: beardall@uswestmail.net. Please E-Mail comments.
Changes last made on: Fri Jul 30 1999